Ebook & Print Available Now!
$9.99 – Ebook | $19.99 – Paperback
Is a Stress-Free Divorce Even Possible?
The removal of stress and anxiety from a divorce situation can be achieved through clarity and certainty.
We reached out to a select group of Divorce Professionals we felt were true educators and advocates for the success of divorcing couples in America.
We asked them to shed light on some of the unknown factors surrounding the topic of divorce so that more couples can navigate this difficult time with greater understanding and through a spirit of cooperation.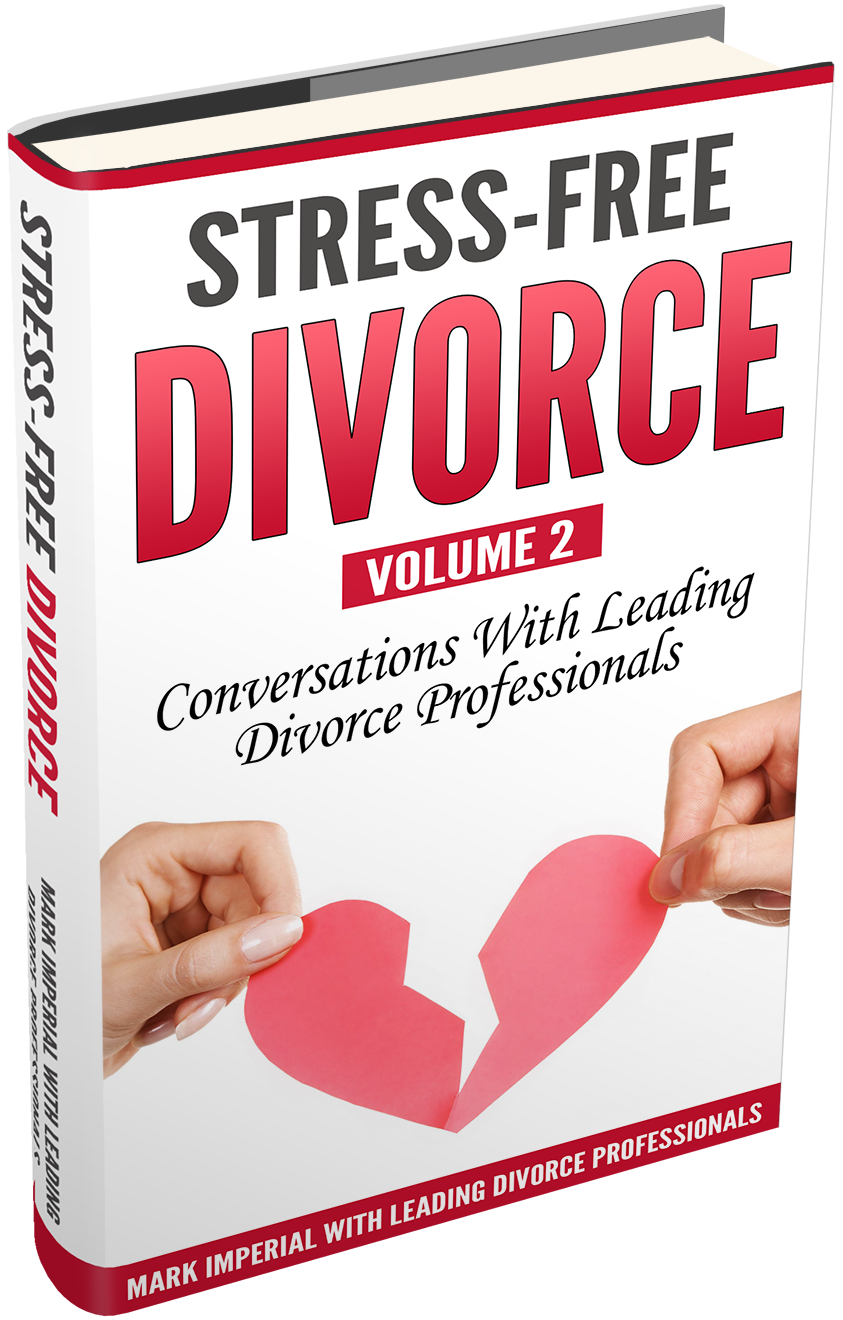 Ebook & Print Available Now!
$2.99 – Ebook | $14.99 – Paperback
Divorce – once you've made the decision, you just want to get through it as quickly and painlessly as possible. If you have kids, you'll try anything to keep them from feeling broken. But you only have one chance to do it right. You can be SMART – bring in the right experts for your divorce, gather all the information, and you'll be sure to make the decisions that are BEST for YOU.
Nancy, a Certified Divorce Financial Analyst, shares with you strategies that have benefited her clients. You'll learn:
• The documents to gather and how to get organized.
• Do It Yourself, Mediation, or Lawyer Assisted? Which divorce method is right for you?
• How to ensure all assets and property are accounted for and who really owns what.
• How child support and alimony come into play.
Don't get divorced without it!
Lisa Crilley Mallis interviews Nancy Hetrick who is the owner of Smarter Divorce Solutions, LLC, the Divorce Financial Planner Training Center, and is a financial advisor with Better Money Decisions. In this episode Lisa and Nancy discuss hiring strategically to fill your gaps.
Kelly Lorenzen interviews Nancy Hetrick, Rochelle Poulton, & Jesus Verdugo who shares great advice, resources, and tips about divorce, real estate, financial planning, and credit repair.
During this interview, Nancy speaks to Talk Show Host, Stewart Andrew Alexander about some of the financial mistakes made in divorce and how to avoid them.
Let us help you have a smarter divorce, no need to waste thousands in a court battle. We will contact you to set up your Smarter Divorce Strategy Session.
In Your Strategy Session We'll:
Explore your divorce options and get clear on the right solution for your situation
Review your financial situation and explore creative settlement possibilities
Map out a plan for transitioning to the next phase of your life
Identify your biggest fears and decide the best way to address them
Connect you with any other resources you'll need in your process
Only 10 sessions available each month! Schedule today to ensure availability!
Smarter Divorce Solutions
Certified Divorce Financial Analysts (CDFA®) who keep the cost of divorce low, while being committed to a kinder, gentler divorce process for all involved.